2022
---
last updated 15th November 2022
---
40th Annual Christmas Concert 2022
---
The 40th Annual Christmas concert of Ardee Concert Band will take place in the Bohemian Centre on Friday 9th December at 8:00pm sharp.
🎟️GET YOURS QUICK 🎟️
Tickets can be purchased by contacting Tim O'Callaghan at 086-3538173 or secretary@ardeeconcertband.com
Children Half price at door and must be accompanied by an adult.
---
Turner Trophy Returns to Ardee
---
The fabulous Turner Trophy returns to Ardee after the Ardee Concert Band's excellent performance in the Championship Concert Band Section of the 104th Championship of Ireland Band Contest in Armagh today, a fitting First Prize, under the baton of Mr. Ronan O'Reilly.
The adjudicator for the contest on the day was Mr. Paul Morley.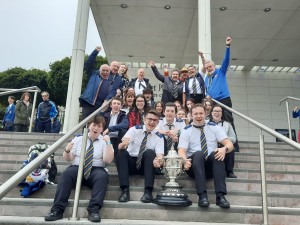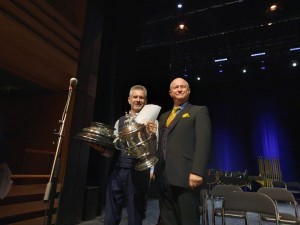 ---
Bingo Sunday 16th October 2022
---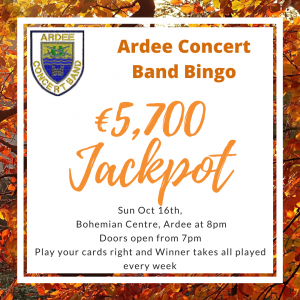 ---
⛰️CLIMB WITH CHARLIE TRIBUTE TO MND ⛰️
---
In support of everyone locally in the North East area and at a national level climbing and walking today, in support of Charlie Bird and raising much needed funds for The Irish Motor Neurone Disease Association (IMNDA) and Pieta House, Our combined Training Band and Intermezzo Ensemble, with support from Jennny Satelle and Darren Kirk, under the baton of Jayne Healy performed and recorded Ain't No Mountain High Enough (Video below 👇)
The climb/activity will be an immense challenge for someone with MND but their determination will highlight the vast mountains ⛰️ so many people have to climb in their everyday lives due to severe illness, physically and mentally.
This campaign is encouraging everyone to 'Climb With Charlie', meaning not just climbing physical mountains, but getting through all the serious challenges in their lives.
Please donate whatever you can though the i- donate link
To support
#climbwithcharlie #irishmotorneuronediseaseassociation #pietahouse #ardeeconcertband #communitybanding
---
BINGO HAS Returned
---
Our weekly Bingo is back in full swing again every Sunday from 8pm in the Bohemian Centre. It has been great to see everyone returning again, new and old faces. Please come and support and you never know you could be walking home with a nice big cheque 💰💰
Everyone is welcome
On Sunday April 3rd, the Jackpot will be €2,900
Doors open from 7pm, see you all there. 👍😊
---
St Patrick's Day
---
The band will lead the Parade for the first time since 2019 when the spectacular event returns to the Ardonian Streets once again as we move to living with Covid.
For supporters cocooning at home or living abroad Joe Finnegan will Live Stream the Parade from his youtube Channel, Here: Joe Finnegan Youtube Page from 2.45pm
---
Bingo Is Returning
---
It is with great excitement that we announce we will be reopening our centre doors for our weekly Sunday night Bingo once again. It's finally back and open for business from Sunday 13th March 8pm sharp.
Make sure to tell all family and friends and we will have the hall buzzing again👥, calling the numbers 🎤, dabbing the books 📚, listening for checks 👂 and cheering the winners 👏😁🎉
---
"Good night and Joy be with you all"
It is with great sadness this evening that we learned of the passing of our musical colleague and much loved friend Vincent McArdle
Vincent was one of the finest French horn players in the country and one of our most committed band members, but more than this he was an absolute gentleman. His passing has left us all deeply shocked and saddened.
We would like to send our sincere condolences to the McArdle family from all of us here in his band family.
May He Rest In Peace
Ar dheis Dé go raibh a hanam dílis.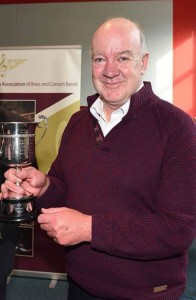 ---
Band resumes after C19 restrictions 
Rehearsals will resume this coming Friday night 21st Jan at 8pm.
Looking forward to seeing you all again.
Tim.