Updated 10/07/2020
Unfortunately Our Weekly Sunday Night Bingo is Cancelled until Further Notice from the HSE Re: Guidelines in line with Covid 19 prevention in our community
---
Happy christmas to all our members and supporters from all here at Ardee Concert Band HQ. We hope santa arrived safely and we hope you all have an amazing time.??
We will see you all soon for a more musical 2021. We just need to stay positive and stay safe. ???
---
Christmas Social Distanced Carols
Some members of Ardee Concert Band with Rockin' Around The Christmas Tree in Ardee today, our first public performance of 2020, who knew we would have had to wait until December for it to happen! ???
We will be back out on the town as tradition holds on Christmas Eve! We can't wait! ???
Christmas with a difference 2020
#covid19 #SocialDistance #NewNormal
---
Catch our 12 days of Christmas countdown Ensemble videos on our Facebook Page Ardee Concert Band
---
Missing Christmas events
---
We are really missing the bandroom these days as its normally a huge of activities buzzing with festive spirit. One of the highlights which we are really missing and takes placetg his time every year is our Christmas jumper party disco for our u18 members.
---
Remembrance Mass
---
This morning Sunday, November 29th we will remember all our Living and Deceased supporters of Ardee Concert Band Bingo at 12noon Mass in Ardee Church.
Unfortunately we won't be able to attend the mass due to the current Level 5 Government Restrictions.
The mass will the streamed live and can be viewed on the Ardee Parish Webcam at; https://churchmedia.tv/camera/church-of-the-nativity-of-our-lady
---
Today Sunday, November 22nd we remember all our Deceased Members of Ardee Concert Band at 12noon Mass in Ardee Church. Unfortunately we won't be able to be there to pay tribute through music alongside the mass due to the current Level 5 Government Restrictions.
The mass will the streamed live and can be viewed on the Ardee Parish Webcam at; https://churchmedia.tv/camera/church-of-the-nativity-of-our-lady
---
13th October;
This time of the year, we would be in full swing of our twice weekly rehearsals, in preparation of putting the finishing touches to our pieces for the NIBandsAssociation contest, on what would have been Saturday 17th October 2020 in the market place theatre.
We are Really missing the days like these when music, anticipation and excitement lined the walls of the Bandroom of the Bohemian Centre.
But Covid had another idea of how this year should be planned. We are apart now so we can be together again hopefully soon. So please everyone stay home, wash your hands, wear your mask right and please don't party, keep contacts to a min. And maybe we can get back to rehearsal soon and prep for these kind of competition times again ??????
---
30 Jul
It's wonderful to have some of our Intermezzo Ensemble back this week. They've recorded this fabulous piece Gabriel's Oboe composed by the late Great Ennio Morricone. Wonderful Flute solo by Charley Miller & Rachel Woods. Well done Everyone ??
---
When tonights music gives us advice! ????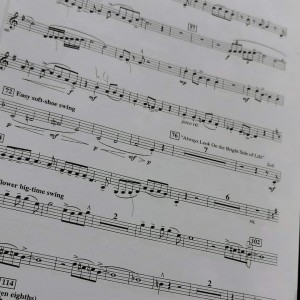 ---
Wednesdays rehearsal last week on July 8th seen our woodwind Section record a video of Minuet in G by J. S. Bach for their 2nd rehearsal back together. Sit back and have a listen.
YOUTUBE Link: Minuet in G by J. S Bach… Click Here
---
Band Is Back
---
What an absolutely great week. we have been so grateful all week to have the music flowing in the hall of the Bohemian Centre again. If lock down has told us anything is to appreciate everything and everyone in our lives. We are a very close community band & everyone feels like family. It was so good to see everyone again even if it was only the people in our sections after an abrupt end back in March. But in Ardee we most definitly have the music back in our lives.
Wood Wind Rehearsals Wednesdays @ 8pm
Brass Rehearsals Fridays @ 8pm
---
#ODETOJOYIE THANK YOU FRONTLINE WORKERS AND EVERYONE ELSE WHO HAS HELPED DURING THIS PANDEMIC IN ANY WAY
Today we pay tribute to our Covid 19 frontline crew on World Music Day & European Music Day to the doctors, the nurses, the dedicated carers, and all of our service workers.
Some senior band members performed Ode to Joy in the Fairgreen Park tomorrow, Sunday June 21st at 6pm whilst ensuring Social distancing.
---
A band project: I want to hold your Hand!
This project was fun to work with.
Ardee Concert Band knows that music connects young & old so here is our performance of a piece of music that has great resonance at this time, 'I Want To Hold Your Hand' accompanied by drawings and pictures from our younger members. These images show our support for all frontline workers, members of the band and their families as well as our loyal Bingo supporters.
Ardee Concert Band is very much a community and these tough times have shown just how strong that community is.
"Many thanks and congratulations to all the members who organised and took part in this project and especially to our saxophonist Robert Finegan who has produced the video together from 32 individual video entries whilst in lockdown in London, where he resides studying for his Masters Degree at the Royal School of Music and who has spent endless hours putting it all together. It just shows how important and versatile technology is at this time also. From all at Ardee Concert Band, We would like to thank all of our frontline workers and everyone working to keep the country going through these difficult times. We hope all our members, their families and our supporters near and far are keeping well and we look forward to welcoming you all back to the Bohemian Centre when safe to do so.", said PRO Sinead Nutley.
The video can be viewed on the bands Facebook page; Ardee Concert Band or on the Bands YouTube Channel; Ardee Concert Band.
Well done to our member Darren Kirk entertaining his neighbours from his front garden on this glorious evening.
Good man Darren. ???
---
Bands of Ireland : Irelands Call
---
.???The Virtual Irelands Call Performance to be premiered on the Late Late Show tonight, May 1st!.???
We are incredibly proud of our 3 members who took part in this production, Kevin, Aisling and Sarah and to every single musician who participated in this huge project. The Late Late Show is a brilliant platform to have the premier and great to see community musicians everywhere get this recognition!
Over a thousand instrumentalists and singers from across Ireland and every continent of the world came together in these difficult times to present this performance. Tune in and turn up the volume!!!
Click Here : Bands of Ireland: Irelands Call 
---
IABCB virtual online Solo comps, April 2020
---
Congratulations and Super performances from the woodwind and brass sections of Ardee Concert Band in the IABCB virtual online Solo comps. To our highly commended performances award for the 10 and unders Woodwind goes to Maggie Healy Rachel Duff and Helen O'Reilly
Also congrats to shane clinton on his 3rd place win and to Ronan Tallon on a high commended Performance Award in the 11-15 yr old brass section of 27 entries.
Well done to Sarah Clare winning the over 21 woodwind category and the overall woodwind prize for the competition and to Emma-Lee Meegan winning the over 21 brass section. #GIRLPOWER!! Well done girlies! ✊?? ?
---
Happy Easter 12 April 2020
---
?Happy easter to all our members, their families and all our supporters. ?
We hope you are all keeping well at home and eating choc for Breakfast, Dinner and Tea. Stay safe everyone and Stay home … and practice or even partake in an easter concert for your families ??? ?
Have a lovely Day
---
?Ardee concert band 'shine a light' tonight for the sick and frontline workers ?11 April 2020 at 9pm
---
☘️Happy St Patrick's Day☘️ to all our Members and Supporters across the globe. Unfortunately there are no parades happening this year due to Covid 19 but hopefully we will be back next year in 2021! ☘️
---
Rehearsals and Lessons Cancelled
On March 12th our banding lives changed forever, we have had our rehearsals cancelled until further notice in line with HSE recommendations for the prevention of the spread of the Covid -19 (Coronavirus) Virus. further Info will follow via email to members. This has also canelled our IABCB National competition journey for 2020. Now we will just have to wait until 2021!
---
March 8th
---
Happy Internatinal Womens Day to all our female members and supporters.
#GirlPower #BehindEveryManIsAPowerfulWoman
---
Feb 25th 2020 Pancake Tuesday
---
Chef Clodagh at the helm again this year. Everyone had a ball and stuffed again for another year. On point as usual clo! … Thanks so much clodagh your a ?….?
#PancakeTuesday #lemon #Sugar #ChocSauce #MorePancakes #Chef #Band #Snacks #ItsTheLittleThings #TreatsForBand
---
U 18 trip to Bowling Jan 2020
---
Great night had by all our u18s on our bowling trip on Friday night. Thanks to all who helped on the night and to clodagh McClean for organising the trip also.